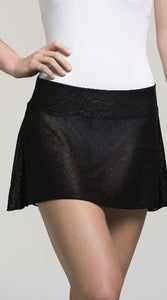 Pull-on Skirt in Swirl Lace - AW508SW
Our  Pull-up Skirt is available in our beautiful Swirl Lace with Tactel® ties.
The Pull-on Skirt is super comfy as it has a wide waistband and shaped skirt - which is 11" in the front and 14" in the back length.
Pair with any of our Swirl Lace leotards - Cap Sleeves (Style: AW114SW), Tara (Style: AW119SW), Celeste (Style: AW128SW), Allegra (Style: AW136SW) or Zip Front (Style: AW1062SW).
Lace Material - 100% polyester
Tie Material - Tactel® - 88% Nylon 12% Spandex.
Please view the colour chart
here