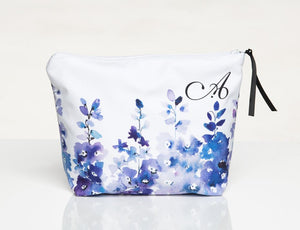 Makeup Bag in Delphinium Print - AW901DE
AinslieWear collaborated with the amazing Vancouver based artist,  Margo Gardiola-Gonzalez, to create our striking Delphinium floral print.
The make-up bag will hold you hairbands, bobby pins, elastics and make-up.
Simply toss in the washer for easy cleaning.
The bag measures 13cm x 20cm bag.
Material - 100% Polyester.
Please view the colour chart
here